September 4, 1997
Features: Television
Fewer Stunts, More Smarts for Kids' TV
By Yvonne Zipp
BOSTON, MA -- Call it the Aesop effect. Broadcasters faced with newFCC guidelines for educational programming are, by and large, relyingon teaching children values rather than cold, hard facts. In somecases, the results will inform as well as entertain. In others, theshows are just cartoons in educational clothing.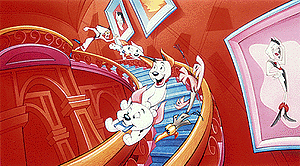 '101 DALMATIANS': Harvardeducators worked with producers for ABC's cartoon. Like most of thenew shows, it teaches values rather than facts.
(WALT DISNEY TELEVISION ANIMATION)
---
As of Sept. 1, networks must provide at least three hours ofeducational programming each week. So does that mean kids will beracing home from school to catch programs like "Calculus Made Easy"and "Fun Facts About the Civil War"? Not exactly. The FCC left thedefinition of educational TV broad enough to include a whole spectrumof programs - from a junior edition of "Wheel of Fortune" to thehistorical "The Legend of Calamity Jane."
Middle-school education specialist John Arnold says a broaderapproach is wise. "TV isn't school; it's a visual medium. It has toentertain as well as educate." Dr. Arnold, a North Carolina Stateprofessor who serves as a consultant to ABC on FCC requirements,adds, "I don't necessarily see any conflict between the two.... Goodeducational TV piques the imagination, it fosters curiosity, itpromotes intellectual growth. Shakespeare is a wonderful example.It's entertainment, but look how it makes people think."
Quality is a key issue with children's TV activists. "If theprogramming ... is good enough, then we applaud it," says PeggyCharren, founder of Action for Children's Television, who lobbiedfor the guidelines. But she adds, "Too often, I think thebroadcasters make pedestrian shows and then have Superman eating anorange and say, 'It's nutrition education!' "
Saturday morning will still be populated by superheroes, aliens,and monsters. But the new programs do show a shifting current inthe sometimes treacherous sea of children's programming - fewerbullets, more brains.
And, as Mrs. Charren points out, it's only the first step: "Ifthere were a ruling to clean up rivers, no one would suggest swimmingin the Charles [River in Boston] two weeks later. It's going to taketime."
So how do the new shows rate? (All shows air in the morningand unless noted, on Saturdays.)
At the head of the class
Science Court (ABC). The only new show where your child willlearn something academic (unless your sound isn't working). Createdby Tom Snyder ("Dr. Katz: Professional Therapist"), this smart newseries tries various scientific phenomena in court. Handing down theverdict is Judge Stone (voiced by Paula Poundstone). First on thedocket: condensation.
Wimzie's House (PBS, weekdays). Talk about blendedfamilies! Wimzie's mom is a bird, her dad's a dragon, and she's allcute. Canada's No. 1 kids' show gracefully handles such familyhiccups as being jealous of a baby brother with warmth, creativity,and more than a touch of whimsy.
An 'A' for effort
The All-New Captain Kangaroo(syndicated, Sundays). His hair is brown, his coat is blue, but ElCapitán is back, as are Mr. Moose and his Ping-Pong balls, BunnyRabbit, and Mr. Green Jeans. Grown-up fans will be relieved to seethe new captain brings the same gentle sensibility as the old.
The New Ghostwriter Mysteries (CBS). Three kids (and afriendly ghost) put their problem-solving skills to the test,cracking such cases as who's running a gambling ring in the school.
101 Dalmatians (ABC). With its snappy animation, lovablecharacters, and the Disney seal of approval, just call it puppy love.A group of Harvard educators worked with producers to come up withthis fast-paced cartoon about the lives of Roger, Anita, and theirdalmatian plantation. Enjoyable? Definitely. Will kids want towatch it? Certainly. Educational? Well ...
Recess (ABC). This clever new show from two of the creatorsof "Rugrats" picks up where that toddler 'toon left off: school. Thisnew animated show draws on strong characterizations, stylizedanimation, and a host of childhood archetypes to turn the playgroundinto a veritable kingdom. A band of five intrepid fourth-graderswends its way through a wilderness that includes two boys determinedto dig their way to China and King Bob, a sixth-grader who holdscourt atop the jungle gym.
Sports Illustrated for Kids (CBS) Baseball players DerekJeter and Alex Rodriguez guest-host this show, which uses sports toteach kids social messages such as the importance of teamwork andtaking responsibility for mistakes.
About average
Pepper Ann (ABC). A feisty redheadbraves such traumas as getting her first pimple the day before classphotos. Some nice animated touches, but the story needs a bettermoral than "It's OK to shop at the uncool mall."
The Weird Al Show (CBS). "Pee-wee's Playhouse" meets"Saturday Night Live" in this uneven but good-spirited new show. If"Weird Al" Yankovic can get the creativity and energy up to thelevel of the theme song, he'll have a hit on his hands.
Wheel of Fortune 2000 (CBS). David Sidoni hosts thisjunior edition of the game show. A major minus: Lucy, thecomputer-animated answer to Vanna White. Aside from hershrink-wrapped outfit (she makes the Little Mermaid look downrightchunky), her constant dancing and chatter are likely to make adultslong for Vanna's blessed silence.
Others
"The Bear in the Big Blue House" (Disney,weekdays), "Channel Umptee-3" (WB), "City Guys" (NBC), and "TheLegend of Calamity Jane" (WB) were not available for review.
(c) Copyright 1999The Christian Science Publishing Society. All rights reserved.

---
The Christian Science Monitor published this featureon September 4, 1997.
---