THE FAMILY PAGE
B Y   D A V I D  H I L T B R A N D
LET'S PLAYHOUSE
February 2, 1998
*   *   *
Tune in to the beginning of The Weird Al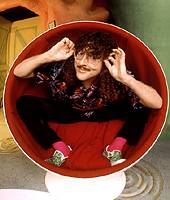 Show (CBS, Saturdays, 11:30 A.M./ET) and you may think you've stumbled on to something wonderful. The opening sequence and theme music for this program, starring kooky song parodist Weird Al Yankovic, explain, in a compressed, chaotic and comical fashion using computer effects and three kinds of animation, how Yankovic got his own TV series. (His zippy saga even includes a stint on a tater-tot farm.) As prologues go, this is boffo. Unfortunately, it's all downhill from there.
Essentially, the show is a threadbare, claustrophobic imitation of CBS's classic Pee-wee's Playhouse. Weird Al lives in a gaudy cave filled with strange gadgets and tacky furnishings. A circle of eccentric friends visits regularly, most notably the Hooded Avenger, an earnest crime fighter who is Al's next-door neighbor. To entertain his guests, our host will often turn on Al TV and flip through channels that spoof kids' shows, sitcoms and commercials. Once in a while at the close of the half hour, a band like Hanson, Barenaked Ladies or All-4-One will drop by unannounced and perform a song. (Jenny McCarthy's brief comedy show for MTV used the same device to try to put a spark in a similarly lame showcase.)
With his home-perm hair, loud tropical shirts, querulous voice and anything-for-a-laugh attitude, Yankovic brings a lot of energy to the screen. But it's more tiresome than infectious. In the series' debut back in September, a visitor (Kevin Weisman) asked, "What do you do for fun on this show?" Five months later, Yankovic has yet to come up with an answer.
*   *   *