October 9, 1997
After "Weird Al" Moved On The Echoes Of His ConcertStill Resonate
Josh Crisp
---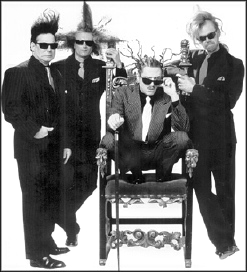 Photo Courtesy Of CarlStudna
"Weird Al" Yankovic And His Bad Hair Band Are OnTour To Spread Some Fun And A Lot Of Hair Spray
"Weird Al" Yankovic came to the Bloomsburg Fair Thursday,September 25, and offered people a break from all the countrysingers scheduled to perform last week. He has been on touraround North America since August 28, and his last scheduled concertis October 19 at Phoenix, AZ.
Stop by and check him out if you happen to be in Arizona on thatday. Weird Alin concert is definitely something a fan should notmiss. His style of music is still innovative, even 18 years afterhe started singing.
Before the concert, people all around the fair could hear himwarming up. The band played the intros to "Fat" (parody of "Bad")and "Eat It" (parody of "Beat It"), fooling some people into thinkingMichael Jackson was playing at the fair. He also scheduledinterviews before the concert, both in person and over the phone.I got to meet him live, backstage.
I was nervous before the interview. I felt a little out of myleague interviewing a man who had been famous even before I wasborn. As I was jotting down a couple of notes, just minutes beforemy appointment, I put down my pen and held out my hand to see ifit was steady.
It looked like I was 20,000 leagues under the sea and gettingthe shakes. Luckily, Mr. Yankovic is a very cool guy. I told himI was nervous, and he told me that he was nervous too, because hehad never been interviewed by a guy from The Voice before.
Although Weird Al is best known for his parodies, he is closerto his original music. "A 50/50 mix is good," he said, and he willprobably never make an album of all original music. He is willingto try new things, except, in his own words, "Shove a railroad spikethrough my head, which would pretty much end mycareer...."
Weird Al is not just involved in music, but in TV and Cinemaas well. He has been in all three "Naked Gun" movies, the recentlyreleased movie "Spy Hard," Disney's made-for-TV movie "SafetyPatrol," and his very own movie, "UHF."
Besides his music videos, shown on MTV and VH1, Weird Al also hasa new Saturday morning TV program on CBS called "The Weird AlShow," which he plugged on Oddville, MTV, and mentioned atthe concert.
Weird Al has covered a wide variety of musical styles, but hewants to try every style, from New Age to Ska. He already knowshow to jam on an accordion. His parents made him take accordionlessons for three years. He says that they were "Visionary" forrealizing how big the accordion was going to be at the end of the20th century.
Weird Al toured last year, following up on the success ofhis latest and bestselling album, "Bad Hair Day." Although heappreciates all parts of music entertainment, he enjoys live concertsmost. "The immediate rush I get is always great" he remarked.His concerts are very interesting, and the crowd he plays for lovethem.
Besides singing many of his popular hits, Weird Al and hisband jump into a variety of outfits that go along with the differentsongs. To sing "Fat," Al puts on a heavy, fat guy outfit. When Iasked him about it, he said "I don't want to ruin the magic. It justtakes a lot of assistants."
The concert also has hilarious video-segments, featuring his musicvideos, make-believe interviews with music celebrities like PaulMcCartney, and interesting video-collages. In between songs, heintroduced a band member, screaming "Bass Solo" and "Drum Solo" tothe band.
They would play a couple a notes, and the audience would screamfor more. Weird Al never did an accordion solo, even though he isthe most well-known accordion rocker in the country.
---
This article originally appeared in theBloomsburg UniversityVoice on October 11, 1997.
---
---