AL YANKOVIC
America's supreme musical parodist, "Weird Al" Yankovic has earned his place as a pop culture icon after nearly 20 years of classic rhyming satire and groundbreaking music videos.
From humble beginnings (his first song take-off was recorded in an empty room near his college), Yankovic has become the premier musical parodist of two generations. He has won two Grammy Awards and earned six additional Grammy nominations while authoring more than a dozen gold and platinum albums. His song parodies span the musical trends from 70s pop [My Sharona became My Bologna] to 80s rock [Beat It became Eat It] to 90s rap [Gangsta's Paradise became Amish Paradise.]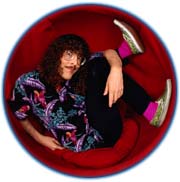 Because of his enduring humor, Weird Al already has sold more comedy albums than anyone else in history and continues to perform regularly at concerts across North America. The 15 titles of his discography include his most recent, Bad Hair Day, and his next music video will be his 20th. He also wrote and performed the theme song for The Weird Al Show.
Yankovic was born October 1959, in Lynwood, California. He is a graduate of California Polytechnic State University in San Luis Obispo, and currently resides in Los Angeles.