Jack Plotnick
as
Uncle Ralphie
---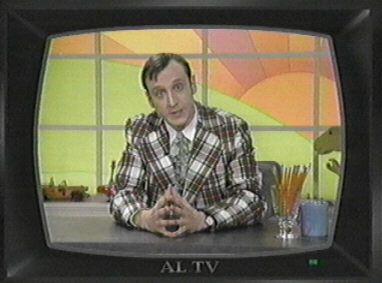 Uncle Ralphie is a talk show host whohas a show in direct competition with Al. InEpisode #3608, Uncle Ralphie makeshis first appearance. He and Al haveboth been nominated for the same award: Best Show. Then ensues awild and crazy fight between the two.

Although they were enemies in this appearance, Al and Ralphieseemed to have made up for Ralphie's other appearance, in the holidaycelebration in Episode #3613.

Jack Plotnick started acting at the ageof 5 when he played Tiny Tim at the local Players Theater in Columbus,Ohio. His first big acting job was a bit part in the movieTeachers, which was filmed in Columbus.

Plotnick attended Carnegie Mellon to study acting, and then movedto New York to get his career going off-Broadway. His biggest stintsin New York were in a show called Pageant, on some episodes of ConanO'Brian (as Mr. Good Body), and in several advertisements.

From there, Plotnick moved to Hollywood and got a big break on theTV show "Ellen" as a recurring character. He also has appeared in"Murphy Brown," "Caroline in the City," "The Dabney Coleman Show,"and "Seinfield."

Plotnick has also appeared in several movies, includingChairman of the Board and Of Gods and Monsters.
---
---