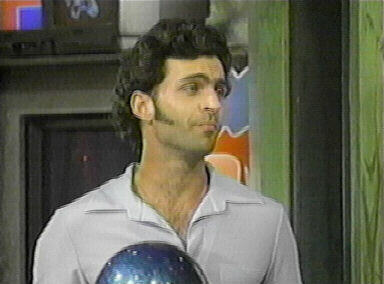 Dweezil: Excuse me, Al.
Al: Hey everybody, it's Dweezil Zappa.
Dweezil: I finished polishing your bowling ball collection, and it is beautiful. But can I have some of your famous chocolate lasagna now?
Al: Did you finish dusting the atomic super collider in my basement?
Dweezil: Um...
Al: Dweezil, Dweezil, Dweezil. If I reward you without you having to earn it, what kind of lesson am I teaching you? Now go finish that list of chores I gave you and then later, maybe, you can have some chocolate lasagna. Okay?
Girl: Hey, do I smell fish sticks?
Boy: Yo, Sabrina, I'd come to your house after school, but my scuba tank isn't working.
Sabrina: (Sobbing)
Announcer: "Sabrina, the Teenage Fish" will continue in a moment.
Announcer: When a man you've never met before suddenly comes up to you and says:
Waiter: May I take your order, please?
Announcer: You know your shampoo is working. May I Take You Order Please? Shampoo. Available now at beauty salons everywhere.
Dr. Philips: You have a TV show?
Al: Yeah. In fact, we're on TV right now. Look.(Points at the camera.)
Dr. Philips: Hi, Mom! I'm sorry, that cameraman looks just like my mother.
J.B. Toppersmith: Oh, Yankovic. How are you? How's the show going?
Al: Oh, just fine, J.B.
J.B.: Look, Yankovic, I was wondering what you've got Harvey the Wonder Hamster doing on this week's show.
Al: I'm not sure Harvey's up to performing today.
J.B.: What are you talking about? He's under contract.
Al: Yeah, I know. He just--
J.B.: All right, never mind. Never mind. Lose the hamster. I've got a much better idea, anyhow. Two words, Al: Giant Banana.
Al: What?
J.B.: Oh yeah. I think the show should have a giant banana on it. Kids love bananas. They're hot right now.
Al: Really?
J.B.: Trust me. I can't sit here and talk all day. Are we okay on the banana?
Al: Sure, J.B.
J.B.: I just love bananas, personally. I eat 30 or 40 a day. Did you know all the vitamins are in the skin? (Eats banana with skin.)
Al: I wasn't aware of that.
Mom: Hi, hon. Hard day at work?
Dad: Don't even ask. Hey, what's for dinner?
Mom: I'm making roast beef. What do you want with it? Potatoes? Green Beans?
Boy: How about bananas?
Mom: Bananas?! You can't have bananas with roast beef!
Announcer: Now, you can!
Parents: Huh?
Announcer: Introducing new Silly Choice Dinners! The new line of dinners where any dinner you desire is possible. Like roast beef and bananas.
Parents: Bananas?!
Announcer: Or fried chicken and pancakes.
Parents: Pancakes?!
Jimmy O'Brien (President and CEO Silly Choice Foods, Inc.): My goal in creating Silly Choice Dinners was to make dinners that I wanted to eat. I love them, and I think you will too.
Announcer: Try all 15 varieties of Silly Choice Dinners. Like grilled salmon and pancakes.
Parents: Pancakes?! Again?!
Dad: You've got two dinners with pancakes?!
Announcer: Or spaghetti and rubber bands.
Parents: Rubberbands?!
Dad: You can't have rubber bands for dinner!
Jimmy: Yes, you can! With Silly Choice!
Announcer: Silly Choice Dinners! Now in your grocer's freezer!
Al: Until next time, eat your vegetables, brush your teeth 27 times a day, and remember, Harvey is a professionally trained stunt hamster. So if there are any hamsters out there watching, don't try this at home.