Al: Let's review your symptoms one more time, Harvey. Lack of movement, rear end is hard and plastic-like, emits a strange whirring sound. Oh! I know what it is! Harvey's just being sucked into the vacuum cleaner, that's all.
Bobbie: What would happen if I never brushed my teeth? Al: Well, now there's a very pressing question, Bobbie. Say, why don't we just stop everything and watch this incredibly entertaining and instructive movie.
Announcer: We use our teeth everyday. To smile and to bite things. But what happens if we neglect our teeth? They might wind up looking like this or this or this. Ewww!
So how can we keep our teeth healthy and clean? First of all, visit your dentist every day and bring along a friend to watch. Also, when you eat cake, chew with your mouth closed. Don't be a pig. When you eat stinky food, hold your nose. And don't eat too many sugar cubes either. It's also a good idea to check your teeth in a mirror every five minutes or so just to make sure they're still there. And most importantly, learn the proper way to brush. A lot of kids try to brush their teeth without actually putting the toothbrush inside their mouths, like these kids. Silly. Brushing your cheek doesn't do any good. you've got to take your teeth out of your mouth first, and then brush them!
So remember, brush! Brush as if your life depended on it. Be nice to your teeth, or else you'll have to eat everything through a straw.
Alex Trebek: Hi. I'm Alex Trebek. Would you like to make more money? Impress your friends? Be like me and know everything in the world? Sure you would! And now the Know-It-All Correspondence School can help. With courses in Molecular Biology, Nuclaer Waste Management, Air Traffic Controlling, Aardvark Training, Bellybutton Lint Recycling, UFO Restoration and Repair, Unleashing Your Inner Robot, Frog Cosmetology, Accounting, and so many more. With the Know-It-All Correspondence School, you can know it all, in no time at all! Call Know-It-All now, and start learning today.
Albert Einstein: I did.
Al: Pretty soon, I'm going to be the most educated guy you've ever met!
Delivery Guy: Gee, that's, that's really good. Let me just find a pen for you here, okay? Would you mind holding this? It's my PhD in Anthropology, my degree in Quantum Physics. Oh, Nobel Prize. Oh, here we go. Here's a pen. You're going to need something to bear down on, though. Here, use my Master's thesis on sub-atomic particles. Here we go, all ready! Thanks a lot! Oh, and good luck.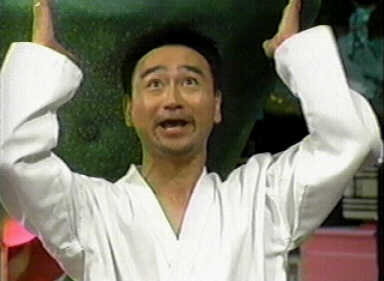 Al: Hey! 30 Seconds to Martial Arts Mastery! Now this sounds cool! "To begin your martial arts training, look behind you."
Kuni: Hi-ah! Hello, little sensei! My name is Kuni, I will be your Judo instructor for the next 30 seconds.
Al: Okay, well what do I--
Kuni: No questions! We are on a very serious schedule here! Now, the martial arts I am to teach you are only to be used for defense, not for attack. Let's begin. Attack me!
Al: But you said that--
Kuni: I know what I said. Attack me!
Al: Okay. AAAAAH!
(Al sharges Kuni and Kuni disposes of Al)
Al: Ow! Well, that was kind of painful.
Kuni: Well, what do you expect? You attack me! Ah, with pain comes wisdom, little wood tick.

Kuni: YOU'RE SO STUPID!
Al: Hey! It happened! My spirit left my body! Okay, concentrate. What's my purpose in life? How do I want to use this limitless oportunity? I think I'll watch some TV!
Announcer: Can't sleep? Congested? Runny nose? Sore throat, nagging cough? Fever and sinus infection? Dizzy, nauseous, disoriented? Constipated? Memory loss? A little crazy? Can't shake your evil self? Haunted house? Knight in shining armor? CIA agent? Upside down person? Golden retriever? Huge beach ball? Miss America? Flying monkeys?
(Al turns off TV)
(Al studying from books)
Al: "The blue nostriled pigeon keeps its young inside its left ear for the entire period of gestation."
(Close book and picks up another one.)
"King Henry III had a wart on his kneecap in the shape of a small poodle."
Announcer: Camp Superfun! Hey everybody, want to have some fun this summer? Try Camp Super fun! Camp Superfun is the perfect camp for shapeless, tall furry animals between the ages of 6 and 13! See you later, Mom and Dad! Camp Superfun! Jump in! It's super fun!
Al: You know, our time is about up for this week, but I hope we've all learned an important lesson here today. And that is that real knowledge can't be paid for in three easy installments of $19.95; real knowledge takes work and sacrifice and PIZZA! And a really good reading lamp so you don't hurt you reyes. So until next week, remember to always, always, always wear shark repellent because you never know when one's gonna -- AAAAAHHH!
(Al falls down as a shark attacks him.)