Al: I've got a letter here from Mindy Grolution in Omaha, Nebraska. And Mindy writes...Oh! it's an answer to our trivia question. The question was, "What's the difference between a machine gun and Kenny G?" Let's see if she got it. Yes! A machine gun only repeats itself 30 times. Congratulations, Mindy. You win...my undying respect.
News Anchor Al: Wolf raised by pack of human babies. Film at 11.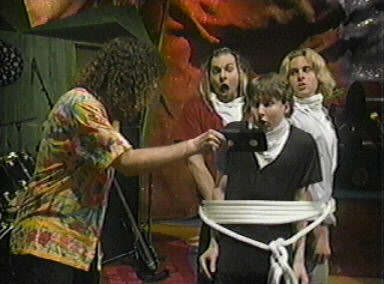 Al: Radish? What are you guys doing here? Val, what did you do?
Val: Don't you look at me like that Al. This is war! Remember?
Al: Yeah, I guess you're right. So Radish, what song will you be performing on my show today?
Radish Drummer: Your crazy!
Al: Oh, c'mon, sing a song, please?
Radish Bobby Brady Look-alike: You're completely out of your mind!
Al: Pretty please?
Radish Dreadhead: We're not doing your stupid show! You kidnapped us!
Al: I see. I see. Well then, maybe you'd like to watch the collected works of Pauly Shore!
Radish: NO!
Uncle Ralphie: Hey, kids. I'm Weird Ralph.
Al: What is he doing?!
Uncle Ralphie: And now, here's everyone's favorite rodent, my very, very best friend in the whole world, Marvin the Super Guinea Pig!
Al: How awful! How heartless! How could anyone sink so low as to do a parody of another human being! And making a guinea pig wear blue after Labor Day? What is he thinking?!
Al: Well, it's a good thing my brand new invention is an instant plastic surgery machine! Ah, I knew this thing would come in handy in a pinch! Let's give it a shot. Where's that mirror? (Looks in mirror and sees he's turned into Drew Carey.) Oh no! What have I done! Woo, that was scary.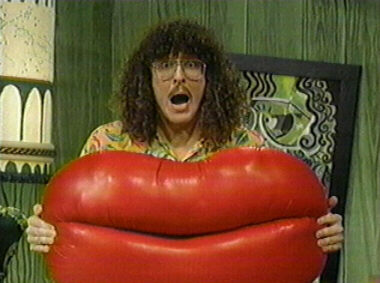 Al: Giant wax lips! Just what I've always wanted! And they're...ticking! Oh no! Lip bomb!
Al: Y'know, all this espionage is making me kind of hungry. I think I'll pop out to the kitchen for a little nutrition break. Care to join me Val? Val? Ah, she's a slippery one, all right. Anyway, here's one of my favorite recipes. First, take a raw potato. DON'T WASH IT! Next, cut it in half with a blunt knife. Then sprinkle liberally with gummi worms. And finally, top with your favorite brand of India ink. Mmm, now that's good eatin'!
(Al takes a bite. He makes a disgusted face and spits out the food.)
Al: Somebody changed my favorite brand of ink with my very least favorite brand of ink!
Award Show Host: Now the winner of the Best TV Show Host Award goes to...But before I announce the winner, I just want to say something. Every day in our country, thousands of our youngsters go to amusement parks and arcades and play a supposedly innocent game called "Wack-a-Squirrel." Well, I personally don't find anything cute, charming, or fun about a game that openly encourages abuse and violence towards our furry rodent friends. And I urge you please, stop the insanity. Thank you. Now where was I. Oh yes, the winner of the Best TV Show Host Award is...the guy who played fair and square, Fred Huggins.
Al, Uncle Ralphie, and Puppets: What?!
Fred Huggins: I can't believe I won!
Papa and Baby Boolie: Neither can we!
Fred Huggins: The only thing that makes winning even better is that my two best friends in the world are here to share it with me.
Papa Boolie: Guess again, you freak!
Baby Boolie: I wanna go home.
Fred Huggins: I just wanna say this is the proudest moment of my life. Because now I know you like me, you really WHA!
(Huggins steps off the stage.)
Al: Until next time, keep your feet on the ground, keep your chin held high, and keep an extra pair of safety goggles handy because you never know when an interdimensional black hole is going to--AAAHH!